---
The increasing usage of Barcode technology in India is fueling growth of the India Barcode Scanner Market. Barcode technology is used across major industries due to multiple advantages such as better inventory management, time saving and cost efficiency. Additionally, growing retail, pharmaceuticals and logistics sector is further expected to boost the demand of the India Barcode scanner market.

According to 6Wreseach, India Barcode Scanner Market shipments value reached US$1.48 Million in CY Q1 2014. MOTOROLA led the market followed by HONEYWELL and ZEBEX. In the Scanning segment, single line Barcode Scanners occupied around 83% market share.


Table: India Barcode Scanner Market, By Print Contrast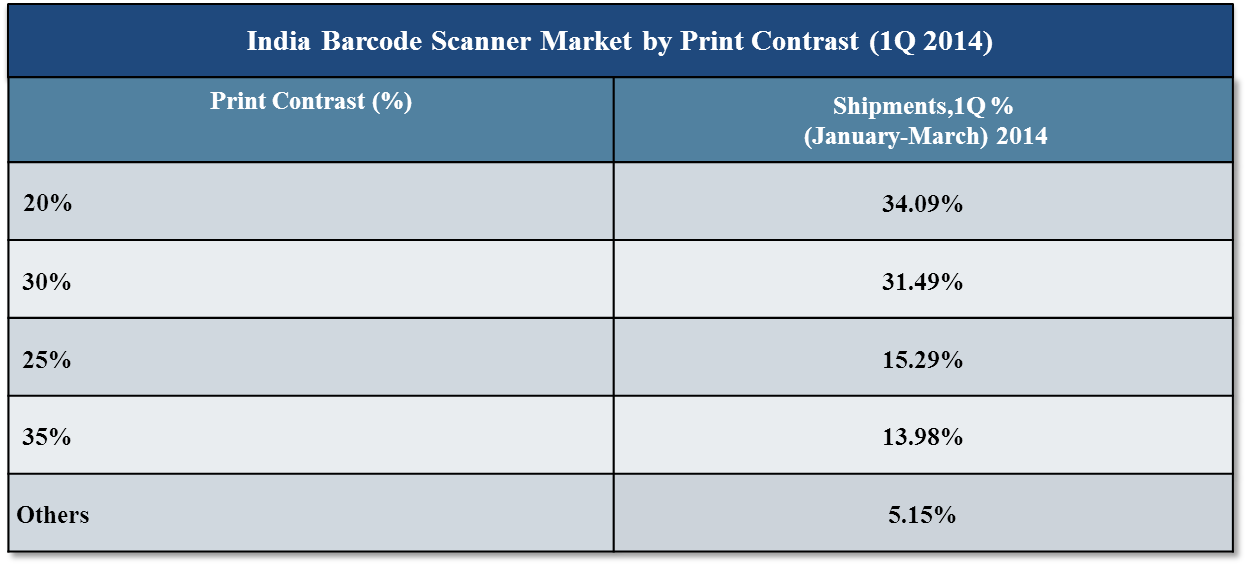 Source: 6Wresearch Quarterly India Barcode Scanner Market, CY 1Q 2014.
Note: Others include 45% and 15% Contrast Ratio Barcode Scanners.

Key Highlights
Top three players constituted around 70% market share
More than 13 vendors shipped Barcode Scanners
Barcode Scanners with USB connectivity captured over 88% share
Apart from the retail sector, Barcode Scanners are also gaining acceptance across the Healthcare and Automobile sector. During CY Q1 2014, 2D Barcode Scanners registered 7% share of the market. Recent introduction of UIADI program by the government has also provided progression to the market. However, with the advancement in the cellphone technology, smartphones have become more powerful and emerged as an alternative tool for the Barcode Scanner devices while providing additional functionality at similar cost. This remains a major hurdle in the growth of the India Barcode Scanner market.