---
According to 6Wresearch, the India Router market registered a total unit shipment of 4, 65,656 unit in CY Q2 2013; a decline of 1% in contrast to CY Q1 2013. D-Link spearheaded the India Router market as the market leader followed by TP-Link and Netgear.

The routers within the price range of INR 1000-2000 accounted for more than 35% of the total unit shipments. The market share for routers with external antenna and WLAN feature amounted to more than 75% of the total unit shipments, whereas routers with WAN feature experienced an increase of around 17% with shipments of 4,17,684 units in CY Q2 2013 as compared to shipment of 3,57,100 units in CY Q1 2013 for the India Router market.

Key Highlights (Q1 2013)
D-Link dominated the India Router market followed by TP-Link and Netgear.
Top 3 players collectively account for more than 70% of the total market share.
More than 55% of routers provide wireless speed up to 150 Mbps.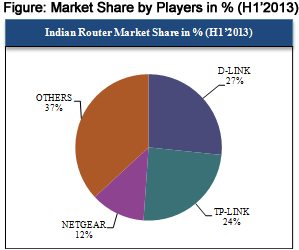 Source: 6Wresearch Quarterly India Router market, CYQ2 2013

In view of the escalating demands for feature rich routers with affordable prices, the major players in India are mainly concentrating on mid and lower segment of routers for the India Router market.

The demand for cloud based services along with the networking and multitasking activities such as browsing the internet on smart phones, tablets via WIFI, watching movies, playing games with gaming consoles and other devices, have all fuelled the demand for routers in India.