Increasing uptake of rooftop solar PV and increasing dependency on renewable energy are some of the key drivers for the growth of Australian Solar Inverter Market. Further, improving political conditions in the country along with significant upcoming investment in the solar energy sector would further help the solar inverter market to grow during 2018-24.

According to 6Wresearch, Australia solar inverter market size is projected to reach $884.5 million by 2024. Australia solar inverter market is highly competitive and fragmented with the presence of domestic, international and unorganized market participants. The market is broadly divided into four segments, according to power ratings, with the below 10kW segment dominating the market revenues. The segment would continue to lead throughout the forecast period owing to rising demand in the residential and commercial & industrial sectors.

By types, the string solar inverter recorded the highest Australia solar inverter market share The segment is anticipated to maintain its dominance during the forecast period as well on account of increasing adoption of solar energy by the residential, commercial and industrial sectors across the country.

The Australia solar inverter market report thoroughly covers Australia Solar Inverter Market by power rating, by types, by verticals and by regions. The Australia solar inverter market outlook report provides an unbiased and detailed analysis of the Australia solar inverter market trends, opportunities/high growth areas and market drivers, which would help the stakeholders to device and align market strategies according to the current and future market dynamics.
Key Highlights of the Report:
• Australia Solar Inverter Market Overview
• Australia Solar Inverter Market Outlook
• Australia Solar Inverter Market Forecast
• Historical Data of Australia Solar Inverter Market Revenues and Volume for the Period, 2014-2017.
• Australia Solar Inverter Market Size & Australia Solar Inverter Market Forecast of Revenues and
Volume for the Period, 2018-2024F.
• Historical Data of Australia Solar Inverter Market Revenues and Volume by Power rating for the Period, 2014-2017.
• Market Size & Forecast of Australia Solar Inverter Market Revenues and Volume by Power rating for the
Period, 2018-2024F.
• Historical Data of Australia Solar Inverter Market Revenues by Types for the Period, 2014-2017.
• Market Size & Forecast of Australia Solar Inverter Market Revenues by Types for the Period, 2018-2024F.
• Historical Data of Australia Solar Inverter Market Revenues by Verticals for the Period, 2014-2017.
• Market Size & Forecast of Australia Solar Inverter Market Revenues by Verticals for the Period, 2018-2024F.
• Historical Data of Australia Solar Inverter Market Revenues by Regions for the Period, 2014-2017.
• Market Size & Forecast of Australia Solar Inverter Market by Regions for the Period, 2018-2024F.
• Market Drivers and Restraints.
• Australia Solar Inverter Market Trends and Opportunities.
• Australia Solar Inverter Market Overview on Competitive Landscape
• Australia Solar Inverter Market Share, By Players.
• Company Profiles.
• Strategic Recommendations.

Markets Covered
The Australia solar inverter market report provides a detailed analysis of the following market segments:
• By Power Ratings
o Below 10kW
o 10kW-100kW
o 100.1kW-1MW
o Above 1MW
• By Types
o Central Inverter
o String Inverter
o Micro Inverter
• By Applications
o Residential
o Commercial & Industrial
o Utility
• By Regions
o New South Wales
o Western Australia
o Victoria
o Queensland
o South Australia
o Others (Tasmania & Northern Territory)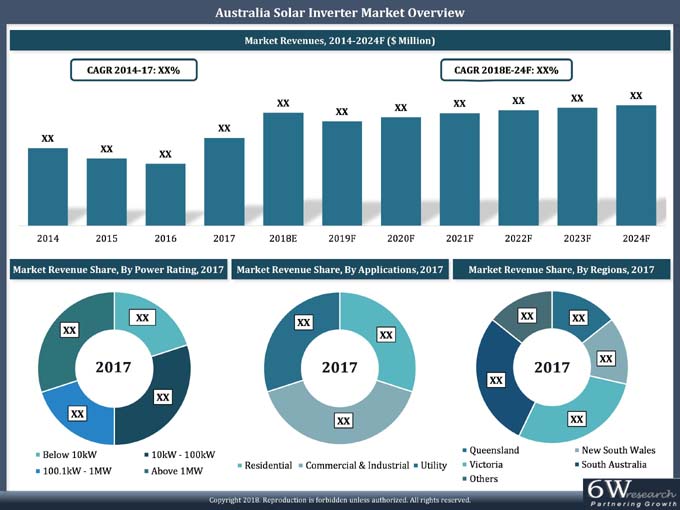 1. Executive Summary
2. Introduction
2.1 Report Description
2.2 Key Highlights of The Report
2.3 Market Scope & Segmentation
2.4 Research Methodology
2.5 Assumptions
3. Australia Solar Power Sector Overview
4. Australia Solar Inverter Market Overview
4.1 Australia Country Indicators
4.2 Australia Solar Inverter Market Revenues
4.3 Australia Solar Inverter Net Capacity Additions, 2014-2024F
4.4 Australia Solar Inverter Revenue Share, By Power Rating, 2017 & 2024F
4.5 Australia Solar Inverter Market Revenue Share, By Types, 2017 & 2024F
4.6 Australia Solar Inverter Market Revenue Share, By Verticals, 2017 & 2024F
4.7 Australia Solar Inverter Market Revenue Share, By Regions, 2017 & 2024F
4.8 Australia Solar Inverter Market - Industry Life Cycle 2017 & 2024F
4.9 Australia Solar Inverter Market - Porter's Five Forces, 2017
5. Australia Solar Inverter Market Dynamics
5.1 Impact Analysis
5.2 Market Drivers
5.3 Market Restraints
6. Australia Solar Inverter Market Trends
7. Australia Solar Inverter Market Overview, By Power Rating
7.1 Australia Below 10kW Solar Inverter Market Revenues and Volume, 2014-2024F
7.2 Australia 10kW-100 kw Solar Inverter Market Revenues and Volume, 2014-2024F
7.3 Australia 100.1kW-1 MW Solar Inverter Market Revenues and Volume, 2014-2024F
7.4 Australia Above 1 MW Solar Inverter Market Revenues and Volume, 2014-2024F
8. Australia Solar Inverter Market Overview, By Types
8.1 Australia Central Solar Inverter Market Revenues, 2014-2024F
8.2 Australia String Solar Inverter Market Revenues, 2014-2024F
8.3 Australia Micro Solar Inverter Market Revenues, 2014-2024F
9. Australia Solar Inverter Market Overview, By Verticals
9.1 Australia Residential Sector Solar Inverter Market Revenues, 2014-2024F
9.2 Australia Commercial & Industrial Sector Solar Inverter Market Revenues, 2014-2024F
9.3 Australia Utility Sector Solar Inverter Market Revenues, 2014-2024F
10. Australia Solar Inverter Market Overview, By Regions
11. Australia Solar Inverter Market - Key Performance Indicators
11.1 Australia Government Spending Outlook
11.2 Australia Renewable Energy Sector Outlook
12. Australia Solar Inverter Market Opportunity Assessment
12.1 Australia Solar Inverter Market Opportunity Assessment, By Power Rating, 2024F
12.2 Australia Solar Inverter Market Opportunity Assessment, By Types, 2024F
12.3 Australia Solar Inverter Market Opportunity Assessment, By Verticals, 2024F
13. Australia Solar Inverter Market - Competitive Landscape
13.1 Australia Solar Inverter Market Competitive Landscape, By Company Shares, 2017
13.2 Australia Solar Inverter Market Competitive Benchmarking, By Types
14. Company Profiles
14.1 ABB Australia Pty Ltd
14.2 Delta Energy Systems (Australia) Pty Ltd.
14.3 Enphase Energy Australia
14.4 Fronius Australia Pty Ltd
14.5 Huawei Technologies (Australia) Pty Ltd.
14.6 Redback Technologies Pty Ltd.
14.7 SMA Australia Pty Ltd
14.8 SolarEdge Technologies (Australia) Pty Ltd
14.9 SolaX Power Australia Pty Ltd
14.10 Sungrow Australia Group Pty. Ltd.
15. Strategic Recommendations
16. Disclaimer

List of Figures
1. Australia National Average Residential Solar PV System Size, 2012-2017 (kW)
2. Total Solar PV Capacity Installed in Australia, 2013-2017 (MW)
3. Australian Renewable Energy Generation Mix, By Technology, 2017
4. Australian Renewable Energy Penetration, By States, 2017
5. Large Scale Projects of Renewable Energy (Under Construction or Starting Construction in 2018)
6. Australia Solar Inverter Market Revenues and Volume, 2014-2024F ($ Million, Thousand Units)
7. Australia Solar Inverter Net Capacity Additions, 2014-2024F (MW)
8. Australia Solar Inverter Market Revenue Share, By Power Rating, 2017 & 2024F
9. Australia Solar Inverter Market Revenue Share, By Types, 2017 & 2024F
10. Australia Solar Inverter Market Revenue Share, By Verticals, 2017 & 2024F
11. Australia Solar Inverter Market Revenue Share, By Regions, 2017 & 2024F
12. Australia Solar Inverter Market - Industry Life Cycle 2017
13. Australia's Annual Electricity Generation Share, By Fuel Types, 2016 & 2020
14. Projected Solar Rebate Amount, 2017-2030 ($)
15. Solar Inverters Factory Gate Prices, 2014-2017 ($/Watt)
16. Stationary Bioenergy Production By State, 2016-17 (GWh)
17. Australia Below 10kW Solar Inverter Market Revenues and Volume, 2014-2024F ($ Million, Hundred Units)
18 Australia 10kW-100 kW Solar Inverter Market Revenues and Volume, 2014-2024F ($ Million, Hundred Units)
19. Australia 100.1kW-1MW Solar Inverter Market Revenues and Volume, 2014-2024F ($ Million, Hundred Units)
20. Australia Above 1 MW Solar Inverter Market Revenues and Volume, 2014-2024F ($ Million, Hundred Units)
21. Australia Central Solar Inverter Market Revenues, 2014-2024F ($ Million)
22. Australia String Solar Inverter Market Revenues, 2014-2024F ($ Million)
23. Australia Micro Solar Inverter Market Revenues, 2014-2024F ($ Million)
24. Australia Residential Sector Solar Inverter Market Revenues, 2014-2024F ($ Million)
25. Australia Commercial & Industrial Sector Solar Inverter Market Revenues, 2014-2024F ($ Million)
26. Australia Utility Sector Solar Inverter Market Revenues, 2014-2024F ($ Million)
27. New South Wales Solar Inverter Market Revenues, 2014-2017 ($ Million)
28. Queensland Solar Inverter Market Revenues, 2014-2017 ($ Million)
29. Victoria Solar Inverter Market Revenues, 2014-2017 ($ Million)
30. Western Australia Solar Inverter Market Revenues, 2014-2017 ($ Million)
31. South Australia Solar Inverter Market Revenues, 2014-2017 ($ Million)
32. Other Regions Solar Inverter Market Revenues, 2014-2017 ($ Million)
33. Australia Renewable Energy Targets, By States
34. Australia Actual Government Spending Vs Actual Government Revenues, 2015-2023F (AUD Billion)
35. Australia Solar Inverter Market Opportunity Assessment, By Power Rating, 2024F
36. Australia Solar Inverter Market Opportunity Assessment, By Types, 2024F
37. Australia Solar Inverter Market Opportunity Assessment, By Verticals, 2024F
38. Australia Solar Inverter Market Competitive Landscape, By Company Shares, 2017

List of Tables
1. Hydro Power's Contribution To Australian Electricity Generation, 2013-2017
2. Australia Renewable Energy Targets, By States
3. Australia Number of Solar PV Systems Installed, By Regions, 2014-2017
4. Australian Renewable Energy Agency Budget, FY2018-22 ($ '000)
5. Australian Energy Statistics 2017
6. Australia Renewable Energy Penetration By States, 2017
7. Australia Upcoming Solar Energy Projects
8. Australia Solar Inverter Market Competitive Benchmarking, By Types