The shipbuilding industry in Malaysia showed signs of recovery in 2017 after two years of sharp decline owing to overproduction and slowdown of oil industry all over the world. Another challenge that shipbuilding industry in Malaysia faces is foreign competition that provides cost effective solutions and limited domestic capacity. As a result, more than 50% of ship requirements in Malaysia is fulfilled by foreign Shipyards.

According to 6Wresearch, Malaysia marine engine market size is projected to grow at a CAGR of 4.4% during 2018-24. Malaysian government is encouraging the shipbuilding industry through a SBSR (Shipbuilding and Ship Repair) strategic plan 2020, aimed at increasing capacity of local yards and promoting shipbuilding. Government has also introduced tax exemption schemes to recover the industry.

Marine Engines that use diesel engine propulsion systems continue to occupy majority of the share of the market. With the decrease in permitted Sulphur emission level worldwide, the popularity of alternate propulsion systems, such as LNG engine and steam turbine are increasing. The demand for LNG engines is expected to grow rapidly after the enforcement of new MARPOL standards for Sulphur emission from January 2020.

Amongst all the applications, offshore Oil and Gas industry in Malaysia held the highest Malaysia marine engine market share in 2017. Malaysia is one of the most important producers and exporters of natural gas in Asia. The global slowdown in oil industry has affected the growth rate of marine engine but the requirement of boats for Seabed Oil and Gas Drilling, Anchor handling tug supply and Offshore Supply Vessels continues to drive the demand for Marine Engines in Malaysia.

The Malaysia marine engine market report thoroughly covers Malaysia marine engine market by power, propulsion types, applications and regions. The Malaysia marine engine market outlook report provides an unbiased and detailed analysis of the Malaysia marine engine market trends, opportunities/high growth areas and market drivers which would help the stakeholders to device and align their market strategies according to the current and future market dynamics.
Key Highlights of the Report:
• Malaysia Marine Engine Market Overview
• Malaysia Marine Engine Market Outlook
• Malaysia Marine Engine Market Forecast
• Historical Data of Malaysia Marine Engine Market Revenues & Volume for the Period 2014-2017.
• Malaysia Marine Engine Market Size & Malaysia Marine Engine Market Forecast until 2024F.
• Historical Data of Malaysia Marine Engine Market Revenues & Volume, By Power for the Period 2014-2017.
• Market Size & Forecast of Malaysia Marine Engine Market Revenues & Volume, By Power until 2024F.
• Historical Data of Malaysia Marine Engine Market Revenues, By Propulsion Types for the Period 2014-2017.
• Market Size & Forecast of Malaysia Marine Engine Market Revenues, By Propulsion Types until 2024F.
• Historical Data of Malaysia Marine Engine Market Revenues, By Applications for the Period 2014-2017.
• Market Size & Forecast of Malaysia Marine Engine Market Revenues, By Applications until 2024F.
• Historical Data of Malaysia Marine Engine Market Revenues, By Regions for the Period 2014-2017.
• Market Size & Forecast of Malaysia Marine Engine Market Revenues, By Regions until 2024F.
• Malaysia Marine Engine Market Trends and Opportunities
• Market Drivers and Restraints.
• Malaysia Marine Engine Market Overview on Competitive Landscape
• Malaysia Marine Engine Market Share, By Players
• Company Profiles.
• Strategic Recommendations

Markets Covered:
The Malaysia marine engine market report provides a detailed analysis of the following market segments:
• By Power:
o Below 100Hp
o 100.1 Hp - 500Hp
o 500.1 Hp - 1000Hp
o Above 1000 Hp
• By Propulsion Types:
o Diesel Engine
o Steam Turbine
o Gas Turbine
o LNG Engine
o Others (Nuclear, fuel cell, solar, water jet and wind)
• By Applications:
o Commercial
o Recreational
o Offshore Oil and Gas
o Navy
o Others (Finishing, Coast Guards, Safety Boats)
• By Regions:
o Peninsular Malaysia
o Subah
o Sarawak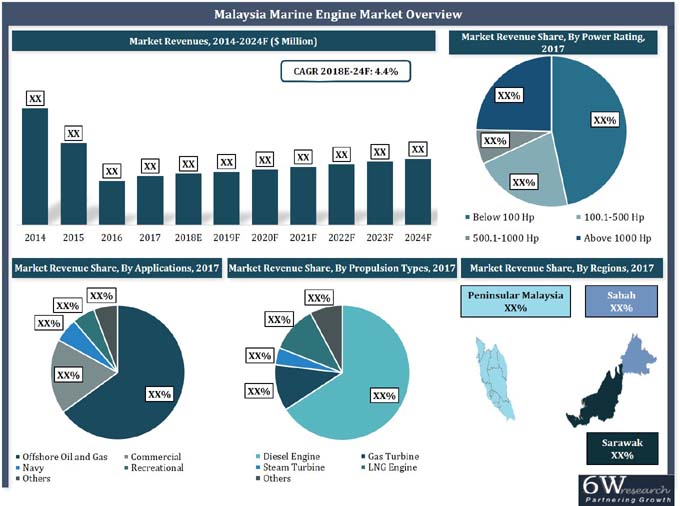 1. Executive Summary
2. Introduction
2.1 Report Description
2.2 Key Highlights of The Report
2.3 Market Scope & Segmentation
2.4 Research Methodology
2.5 Assumptions
3. Malaysia Marine Engine Market Overview
3.1 Malaysia Country Indicators
3.2 Malaysia Marine Engine Market Revenues & Volume, 2014-2024F
3.3 Malaysia Marine Engine Market Revenue & Volume Share, By Power Rating, 2017 & 2024F
3.4 Malaysia Marine Engine Market Revenue & Volume Share, By Propulsion Types, 2017 & 2024F
3.5 Malaysia Marine Engine Market Revenue Share, By Applications, 2017 & 2024F
3.6 Malaysia Marine Engine Market Revenue Share, By Regions, 2017 & 2024F
3.7 Malaysia Marine Fuel Mix
3.8 Malaysia Marine Engine Industry Life Cycle, 2017
3.9 Malaysia Marine Engine Market Porter's Five Forces, 2017
4. Malaysia Marine Engine Market Dynamics
4.1 Impact Analysis
4.2 Market Drivers
4.3 Market Restraints
5. Malaysia Marine Engine Market Trends
6. Malaysia Marine Engine Market Overview, By Power
6.1 Malaysia Below 100 Hp Marine Engine Market Revenues & Volume, 2014-2024F
6.2 Malaysia 100.1 Hp - 500 Hp Marine Engine Market Revenues & Volume, 2014-2024F
6.3 Malaysia 500.1 Hp - 1000 Hp Marine Engine Market Revenues & Volume, 2014-2024F
6.4 Malaysia Above 1000 Hp Marine Engine Market Revenues & Volume, 2014-2024F
7. Malaysia Marine Engine Price Trend, By Power Rating
8. Malaysia Marine Engine Market Overview, By Propulsion Types
8.1 Malaysia Diesel Engine Marine Engine Market Revenues, 2014-2024F
8.2 Malaysia Gas Turbine Marine Engine Market Revenues, 2014-2024F
8.3 Malaysia Steam Turbine Marine Engine Market Revenues, 2014-2024F
8.4 Malaysia Other Marine Engine Market Revenues, 2014-2024F
8.5 Malaysia Other Marine Engine Market Revenues, 2014-2024F
9. Malaysia Marine Engine Market Overview, By Applications
9.1 Malaysia Commercial Application Marine Engine Market Revenues, 2014-2024F
9.2 Malaysia Offshore Oil and Gas Application Marine Engine Market Revenues, 2014-2024F
9.3 Malaysia Recreational Application Marine Engine Market Revenues, 2014-2024F
9.4 Malaysia Navy Application Marine Engine Market Revenues, 2014-2024F
9.5 Malaysia Other Application Marine Engine Market Revenues, 2014-2024F
10. Malaysia Marine Engine Market Overview, By Regions
10.1 Malaysia Marine Engine Market Revenues, By regions, 2014-2024F
11. Malaysia Marine Engine Market Key Performance Indicators
11.1 Malaysia Government Spending Outlook
11.2 Malaysia Maritime Transport Sector Outlook
12. Malaysia Marine Engine Market Opportunity Assessment
12.1 Malaysia Marine Engine Market Opportunity Assessment, By Power
12.1 Malaysia Marine Engine Market Opportunity Assessment, By Applications
13. Malaysia Marine Engine Market Competitive Landscape
13.1 Malaysia Marine Engine Market Revenue Share, By Company, 2017
13.2 Middle East Structured Cabling Market Opportunity Assessment, By Countries
14. Company Profiles (Top 10)
14.1 Cummins Inc.
14.2 Caterpillar Inc.
14.3 Mitsubishi Heavy Industries Engine System Asia Pte Ltd.
14.4 Yamaha Motor Co. Ltd
14.5 Mercury Marine
14.6 Wartsila
14.7 Perkins Engines Co. Ltd.
14.8 MAN Energy Solutions
14.9 Yanmar Holdings Co., Ltd.
14.10 Rolls Royce Public Limited Company
15. Strategic Recommendations
16. Disclaimer

List of Figures
1. Malaysia Marine Engine Market Revenues & Volume, 2014-2024F ($ Million, Thousand Units)
2. Malaysia Marine Engine Market Revenue Share, By By Power, 2017 & 2024F
3. Malaysia Marine Engine Market Volume Share, By Power, 2017 & 2024F
4. Malaysia Marine Engine Market Revenue Share, By Propulsion Types, 2017 & 2024F
5. Malaysia Marine Engine Market Revenue Share, By Applications, 2017 & 2024F
6. Malaysia Marine Engine Market Revenue Share, By Regions, 2017 & 2024F
7. Malaysia Fuel Mix, 2017 & 2024F
8. Malaysia Marine Engine Market - Industry Life Cycle 2017
9. Malaysia Container Port Throughput, 2010-2017 (Million TEU)
10. World Crude Oil Production, 2007-2017 (Million Tonnes)
11. Global Sulphur Cap outside Emission Control Areas, 2005 onwards
12. Global Sulphur Cap in Emission Control Areas, 2005 onwards
13. Malaysia Below 100 Hp Marine Engine Market Revenues & Volume, 2014-2024F ($ Million, Thousand Units)
14. Malaysia 100.1-500Hp Marine Engine Market Revenues & Volume, 2014-2024F ($ Million, Hundred Units)
15. Malaysia 500.1-1000 Hp Marine Engine Market Revenues & Volume, 2014-2024F ($ Million, Units)
16. Malaysia above 1000 Hp Marine Engine Market Revenues & Volume, 2014-2024F ($ Million, Units)
17. Malaysia Marine Engine Price Trend, By Power Rating, 2014-2024F ($/Unit)
18. Malaysia Diesel Engine Marine Engine Market Revenues, 2014 - 2024F ($ Million)
19. Malaysia Gas Turbine Marine Engine Market Revenues, 2014 - 2024F ($ Million)
20. Malaysia Steam Turbine Marine Engine Market Revenues, 2014 - 2024F ($ Million)
21. Malaysia LNG Engine Marine Engine Market Revenues, 2014 - 2024F ($ Million)
22. Malaysia Other Marine Engine Market Revenues, 2014 - 2024F ($ Million)
23. Malaysia Commercial Marine Engine Market Revenues, 2014 - 2024F ($ Million)
24. Malaysia Container Port Throughput (Million TEU)
25. Malaysia Offshore Oil and Gas Marine Engine Market Revenues, 2014 - 2024F ($ Million)
26. Malaysia Recreational Marine Engine Market Revenues, 2014 - 2024F (Thousand Units)
27. Global cruise Passengers, 2011-2018E (Millions)
28. Malaysia Cruise Passengers-January to May, 2016-2017 (Thousand)
29. Malaysia Navy Marine Engine Market Revenues, 2014 - 2024F (Thousand Units)
30. Malaysia Other Application Marine Engine Market Revenues, 2014 - 2024F ($ Million)
31. Malaysia Marine Engine Market Revenues, By Regions, 2014-2024F ($ Million)
32. Malaysia Actual Government Spending Vs Actual Government Revenues, 2014-2021F (RM Billion)
33. Malaysia Projection of New Construction Work (RM Billion)
34. Malaysia Marine Engine Market Opportunity Assessment, By kVA Rating
35. Malaysia Marine Engine Market Opportunity Assessment, By Applications
36. Malaysia Marine Engine Market Revenues, By Company, 2017

List of Tables
1. Malaysia Sea Ports
2. Malaysia Operational Power Plants
3. Malaysia Sea Ports
4. Malaysia Number of Projects, By Category, 2010-2017
5. Malaysia Number of Projects, By Sector, 2010-2017
6. Malaysia Approved Private Investments in Services Sector, 2016 & 2017 (RM Million)
7. Malaysia Total Development Expenditure, By Sectors (2017 & 2018E)
8. Malaysia Total Development Expenditure (2017 & 2018E)
9. Total Cargo Throughput by Ports (Million FreighWeight Tonnes)
10. Total Container Throughput by Ports ('0000 TEUs)
11. Natural Gas Production (Billion Cubic Metres), 2007-2017
12. Natural Gas Consumption (Billion Cubic Metres), 2007-2017