Robust growth of middle-class population, upcoming large scale infrastructure projects in the commercial & industrial sectors coupled with government policies such as Urban Development Plan 2040 are anticipated to provide a significant boost to the Myanmar UPS market forecast revenues over the coming years. Additionally, strengthening BFSI sector and upcoming projects in the education sector, such as construction of Than Nu Taw School, would further spur the growth of Myanmar UPS over the coming years.

According to 6Wresearch, Myanmar UPS market size is projected to grow at a CAGR of 7.3% during 2019-25. Increasing consumption of power across all segments such as industrial, commercial and residential sectors would help the market of UPS to witness significant growth over the next six years. Further, rapidly growing information & technology industry along with rising number of hotels under the hospitality sector across the country are anticipated to offer new avenue of applications for the UPS market during 2019-25.

Amongst all the applications, the commercial application captured the highest market revenue share in the overall Myanmar UPS market share in 2018. In the commercial sector, BFSI, Commercial office spaces and Hospitality segments were the major revenue generating applications and are expected to maintain their dominance during the forecast period on account of government emphasis on developing the country's social infrastructure.

Myanmar UPS market report thoroughly covers market by kVA rating, phases, applications and regions. Myanmar UPS market outlook report provides an unbiased and detailed analysis of the on-going Myanmar UPS market trends, opportunities/high growth areas and market drivers which would help the stakeholders to devise and align their market strategies according to the current and future market dynamics.
Key Highlights of the Report:
• Myanmar UPS Market Overview
• Myanmar UPS Market Outlook
• Myanmar UPS Market Size and Myanmar UPS Market Forecast, until 2025.
• Historic Data of Myanmar UPS Market Revenues and Volume 2015-2018
• Market Size & Forecast of Myanmar UPS Market Revenues & Volume Until 2025
• Historic Data of Myanmar Up to 1 kVA UPS Market Revenues & Volume 2015-2018
• Market Size & Forecast of Myanmar Up to 1 kVA UPS Market Revenues & Volume Until 2025
• Historic Data of Myanmar 1.1 kVA - 10 kVA UPS Market Revenues & Volume 2015-2018
• Market Size & Forecast of Myanmar 1.1 kVA - 10 kVA UPS Market Revenues & Volume Until 2025
• Historic Data of Myanmar 10.1 kVA - 50 kVA UPS Market Revenues & Volume 2015-2018
• Market Size & Forecast of Myanmar 10.1 kVA - 50 kVA UPS Market Revenues & Volume Until 2025
• Historic Data of Myanmar 50.1 kVA - 100 kVA UPS Market Revenues & Volume 2015-2018
• Market Size & Forecast of Myanmar 50.1 kVA - 100 kVA UPS Market Revenues & Volume Until 2025
• Historic Data of Myanmar Above 100 kVA UPS Market Revenues & Volume 2015-2018
• Market Size & Forecast of Myanmar Above 100 kVA UPS Market Revenues & Volume Until 2025
• Historic Data of Myanmar 1-Phase UPS Market Revenues & Volume 2015-2018
• Market Size & Forecast of Myanmar 1-Phase UPS Market Revenues & Volume Until 2025
• Historic Data of Myanmar 3-Phase UPS Market Revenues & Volume 2015-2018.
• Market Size & Forecast of Myanmar 3-Phase UPS Market Revenues & Volume Until 2025
• Historical data and Forecast of Myanmar UPS Market Revenues, By Applications 2015-2025
• Historical data and Forecast of Myanmar UPS Market Revenues, By Regions 2015-2025
• Market Drivers and Restraints
• Myanmar UPS Market Trends and Industry Life Cycle
• Porter's Five Force Analysis and Market Opportunity Assessment
• Myanmar UPS Market Share, By Players
• Myanmar UPS Market Overview on Competitive Benchmarking
• Company Profiles
• Key Strategic Recommendations

Markets Covered
The Myanmar UPS Market report provides a detailed analysis of the following market segments:
• By kVA Ratings
o Up to 1 kVA
o 1.1 kVA - 10 kVA
o 10.1 kVA - 50 kVA
o 50.1 kVA - 100 kVA
o Above 100 kVA
• By Phases
o 1-Phase
o 3-Phase
• By Applications
o Commercial
■ Offices
■ Healthcare
■ Hospitality
■ BFSI
■ Data Centers
■ Others (Retail, Government Buildings, Transportation Infrastructure)
o Industrial
o Residential
• By Regions
o Northern
o Southern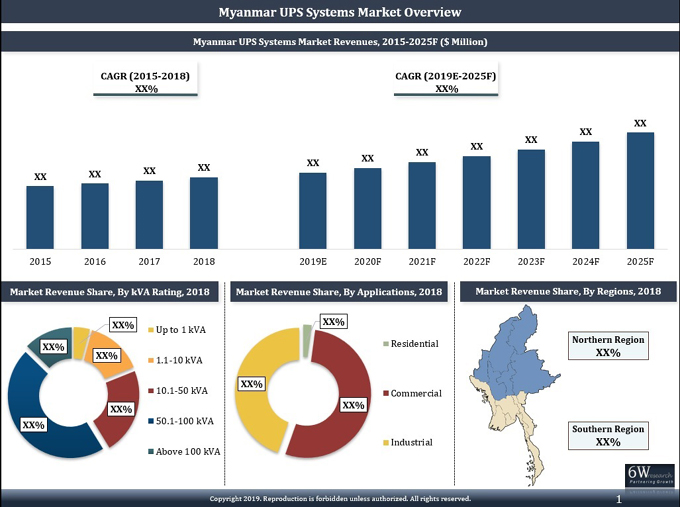 1. Executive Summary
2. Introduction
2.1 Report Description
2.2 Key Highlights of The Report
2.3 Market Scope & Segmentation
2.4 Research Methodology
2.5 Assumption
3. Myanmar UPS Systems Market Overview
3.1 Myanmar Country Overview
3.2 Myanmar UPS Systems Market Revenues & Volume (2015-2025F)
3.3 Myanmar UPS Systems Market Revenue Share, By kVA Rating (2018 & 2025F)
3.4 Myanmar UPS Systems Market Volume Share, By kVA Rating (2018 & 2025F)
3.5 Myanmar UPS Systems Market Revenue Share, By Phases (2018 & 2025F)
3.6 Myanmar UPS Systems Market Volume Share, By Phases (2018 & 2025F)
3.7 Myanmar UPS Systems Market Revenue Share, By Applications (2018 & 2025F)
3.8 Myanmar UPS Systems Market Volume Share, By Applications (2018 & 2025F)
3.9 Myanmar UPS Systems Market Revenue Share, By Regions (2018 & 2025F)
3.10 Myanmar UPS Systems Market Industry Life Cycle
3.11 Myanmar UPS Systems Market - Porter's Five Forces Model
4. Myanmar UPS Systems Market Dynamics
4.1 Impact Analysis
4.2 Market Drivers
4.3 Market Restraints
5. Myanmar UPS Systems Market Trends
6. Myanmar UPS Systems Market Overview, By kVA Rating
6.1 Myanmar Up to 1 kVA UPS Systems Market Revenues & Volume, 2015-2025F
6.1.1 Myanmar Up to 1 kVA UPS Systems Market Revenues & Volume, By Applications, 2015-2025F
6.2 Myanmar 1.1-10 kVA UPS Systems Market Revenues & Volume, 2015-2025F
6.2.1 Myanmar 1.1-100 kVA UPS Systems Market Revenues & Volume, By Applications, 2015-2025F
6.3 Myanmar 10.1-50 kVA UPS Systems Market Revenues & Volume, 2015-2025F
6.3.1 Myanmar 10.1-50 kVA UPS Systems Market Revenues & Volume, By Applications, 2015-2025F
6.4 Myanmar 50.1-100 kVA UPS Systems Market Revenues & Volume, 2015-2025F
6.4.1 Myanmar 50.1-100 kVA UPS Systems Market Revenues & Volume, By Applications, 2015-2025F
6.5 Myanmar Above 100 kVA UPS Systems Market Revenues & Volume, 2015-2025F
6.5.1 Myanmar Above 100 kVA UPS Systems Market Revenues & Volume, By Applications, 2015-2025F
7. Myanmar UPS Systems Market Overview, By Phases
7.1 Myanmar 1-Phase UPS Systems Market Revenues & Volume, 2015-2025F
7.2 Myanmar 3-Phase UPS Systems Market Revenues & Volume, 2015-2025F
8. Myanmar UPS Systems Market Overview, By Applications
8.1 Myanmar Residential Applications UPS Systems Market Revenues & Volume, 2015-2025F
8.1.1 Myanmar Residential Sector Outlook
8.2 Myanmar Commercial Applications UPS Systems Market Revenues & Volume, 2015-2025F
8.2.1 Myanmar Commercial Applications UPS Systems Market Revenues, By Sub-Segment, 2015-2025F
8.2.2 Myanmar Commercial Sector Outlook
8.3 Myanmar Industrial Applications UPS Systems Market Revenues & Volume, 2015-2025F
8.3.1 Myanmar Industrial Sector Outlook
9. Myanmar UPS Systems Market Overview, By Regions
9.1 Northern Myanmar UPS Systems Market Revenues, 2015-2025F
9.2 Southern Myanmar UPS Systems Market Revenues, 2015-2025F
10. Myanmar UPS Systems Market Key Performance Indicators
10.1 Myanmar Government Spending Outlook
10.2 Myanmar Construction Sector Outlook
10.3 Myanmar Tourism Spending Outlook
10.4 Myanmar Urban Development Plan 2040
11. Myanmar UPS Systems Market Opportunity Assessment
11.1 Myanmar UPS Systems Market Opportunity Assessment, By kVA Rating
11.2 Myanmar UPS Systems Market Opportunity Assessment, By Applications
12. Competitive Landscape
12.1 Myanmar UPS Systems Market Revenue Share, By Company, 2018
12.2 Myanmar UPS Systems Market Competitive Benchmarking, By kVA Rating
13. Company Profiles
13.1 Eaton Corporation Plc
13.2 Schneider Electric SE
13.3 Vertiv Co.
13.4 Socomec Group S.A
13.5 Delta Electronics (Myanmar) Company Limited
13.6 GE Myanmar
13.7 ABB Limited (Myanmar Branch)
13.8 Fuji Electric Co., Ltd (Myanmar Branch Office)
14. Key Strategic Recommendations
15. Disclaimer

List of Figures
1. Myanmar UPS Systems Market Revenues & Volume, 2015-2025F ($ Million, Units)
2. Myanmar UPS Systems Market Revenue Share, By kVA Rating, 2018 & 2025F
3. Myanmar UPS Systems Market Volume Share, By kVA Rating, 2018 & 2025F
4. Myanmar UPS Systems Market Revenue Share, By Phases, 2018 & 2025F
5. Myanmar UPS Systems Market Volume Share, By Phases, 2018 & 2025F
6. Myanmar UPS Systems Market Revenue Share, By Applications, 2018 & 2025F
7. Myanmar UPS Systems Market Volume Share, By Applications, 2018 & 2025F
8. Myanmar UPS Systems Market Revenue Share, By Regions, 2018 & 2025F
9. Myanmar UPS Systems Market Industry Life Cycle, 2018
10. Myanmar GDP Growth Rate, 2011-2018 (%)
11. Myanmar Breakdown of Total Contribution of Travel & Tourism to GDP, 2017
12. Myanmar Total Contribution of Travel & Tourism to GDP, 2017-2028 (Kyat Millions)
13. Myanmar Total Contribution of Travel & Tourism to GDP, 2017-2028 (%)
14. Myanmar Up to 1 kVA UPS Systems Market Revenues & Volume, 2015-2025F ($ Thousand, Units)
15. Myanmar 1.1-10 kVA UPS Systems Market Revenues & Volume, 2015-2025F ($ Thousand, Units)
16. Myanmar 10.1-50 kVA UPS Systems Market Revenues & Volume, 2015-2025F ($ Thousand, Units)
17. Myanmar 50.1-100 kVA UPS Systems Market Revenues & Volume, 2015-2025F ($ Thousand, Units)
18. Myanmar Above 100 kVA UPS Systems Market Revenues & Volume, 2015-2025F ($ Thousand, Units)
19. Myanmar 1-Phase UPS Systems Market Revenues & Volume, 2015-2025F ($ Thousand, Units)
20. Myanmar 3-Phase UPS Systems Market Revenues & Volume, 2015-2025F ($ Thousand, Units)
21. Myanmar Residential Application UPS Systems Market Revenues & Volume, 2015-2025F ($ Thousand, Units)
22. Yangon Serviced Apartment Cumulative Room Stock, 2011-2020 (Units)
23. Mandalay Condominium Cumulative Supply, 2014-2019 (Units)
24. Myanmar Commercial Application UPS Systems Market Revenues & Volume, 2015-2025F ($ Thousand, Units)
25. Yangon Retail Supply Stock, 2011-2020 (GLA sq.m.)
26. Mandalay Retail Supply Stock, 2011-2019 (GLA sq.m.)
27. Myanmar Industrial Application UPS Systems Market Revenues & Volume, 2015-2025F ($ Thousand, Units)
28. Myanmar Foreign Direct Investment in Manufacturing Per Fiscal Year, 2012-2017 ($ Million)
29. Myanmar Yearly Approved Amount of Foreign Investment (Till 31.1.2018) ($ Million)
30. Myanmar Share of Permitted FDI, by Sector (1988-2017)
31. Northern Myanmar UPS Systems Market Revenues & Volume, 2015-2025F ($ Thousand)
32. Southern Myanmar UPS Systems Market Revenues & Volume, 2015-2025F ($ Thousand)
33. Myanmar Actual Government Spending Vs Actual Government Revenues, 2014-2023F (Burmese kyat Trillion)
34. Myanmar Total Investment as a Percent of GDP, 2014-2022F
35. Myanmar Construction Industry Value by Sector, 2011 - 2016
36. Myanmar Infrastructure Investment Forecast, 2017-2040 ($ Billion)
37. Myanmar Infrastructure Investment Forecast, By Sector, 2017-2040 ($ Billion)
38. Myanmar Foreign Visitor Arrivals, 2015-2025F (Million Person)
39. International Arrivals in Myanmar, By Continents (2018)
40. Upcoming Urban Development Plans
41. Myanmar UPS Systems Market Opportunity Assessment, By kVA Rating, 2025F
42. Myanmar UPS Systems Market Opportunity Assessment, By Applications, 2025F
43. Myanmar UPS Systems Market Revenue Share, By Company, 2018

List of Tables
1. Upcoming Construction Projects in Myanmar
2. Myanmar Up to 1 kVA UPS Systems Market Revenues, By Applications, 2015-2025F ($ Thousand)
3. Myanmar Up to 1 kVA UPS Systems Market Volume, By Applications, 2015-2025F (Units)
4. Myanmar 1.1-10 kVA UPS Systems Market Revenues, By Applications, 2015-2025F ($ Thousand)
5. Myanmar 1.1-10 kVA UPS Systems Market Volume, By Applications, 2015-2025F (Units)
6. Myanmar 10.1-50 kVA UPS Systems Market Revenues, By Applications, 2015-2025F ($ Thousand)
7. Myanmar 10.1-50 kVA UPS Systems Market Volume, By Applications, 2015-2025F (Units)
8. Myanmar 50.1-100 kVA UPS Systems Market Revenues, By Applications, 2015-2025F ($ Thousand)
9. Myanmar 50.1-100 kVA UPS Systems Market Volume, By Applications, 2015-2025F (Units)
10. Myanmar Above 100 kVA UPS Systems Market Revenues, By Applications, 2015-2025F ($ Thousand)
11. Myanmar Above 100 kVA UPS Systems Market Volume, By Applications, 2015-2025F (Units)
12. Myanmar UPS Systems Market Revenues, Commercial Sub-Segment, 2015-2018 ($ Thousand)
13. Myanmar UPS Systems Market Revenues, Commercial Sub-Segment, 2018E-2024F ($ Thousand)
14. Myanmar Upcoming Commercial Projects
15. Myanmar Foreign Direct Investment in Manufacturing Per Fiscal Year ($ Million)
16. Myanmar Functional Expenditure Allocation, 2013 - 2020