---
With the changing lifestyle, heart related problems have increased drastically in India. Even the young population is now vulnerable to several heart related diseases. This has created the demand for technological advanced medical equipment. Cardiac pacemaker is one such device, whose market is gaining ground due to its adoption across various hospitals in India.

According to 6Wresearch, India Cardiac Pacemaker Market shipments reached 10.9 thousand units in CY Q4 2013. Medtronic is the leader in Indian market, followed by St. Jude Medical and BIOTRONIK. Indian Cardiac Pacemaker market is primarily dominated by internal pacemaker systems, constituting 98% of the total market share of which single chamber systems category accounts for majority of the share.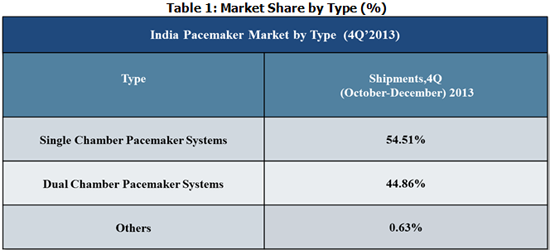 Source: 6Wresearch Quarterly India Cardiac Pacemaker Market, CY Q4 2013.
Note: Others include Three Chamber and Cardioverter-defibrillator Systems

Key Highlights (CY Q4 2013)
More than 6 vendors shipped pacemakers in the country.
Top three players captured over 97% of the total market share.
In the atrial sensitivity segment, 0.5 MV registered around 35% share.
Pacemakers with VVIR (Ventricular Rate Modulated Pacing) mode constituted 40% of the total Indian Pacemaker market, followed by DDDR (Dual Chamber Rate Adaptive) with a share of 29%. Additionally, Magnetic Resonance Imaging (MRI) compatible pacemakers represented 10% of the total market.

Though, cardiac pacemakers are expensive in nature and are used in specialty hospitals, but with the decline in prices, these devices are expected to be adopted in other hospitals as well; thereby, spurring the growth in the coming quarters.