---
The India Large Format Printer (LFP) market is demonstrating promising growth as a result of growing advertising and digital marketing. The OEMs are looking for new and innovative ways to promote their brands such as banners, vehicle wraps and point of purchase displays, which are some of the most popular items produced by large format printers. Nowadays, large format graphics are used across all major promotional activities to deliver better results.

According to 6Wresearch, India Large Format Printer market shipments value reached US$4.64 million in CY 1Q 2014. HEWLETT PACKARD led the market followed by EPSON and CANON. HP's dominance in the LFP market is due to huge demand for its entry level-priced LFPs across engineering students and freelance professionals as well as inclusion of Wi-Fi connectivity in the LFPs.


Table: India Large Format Printer Market, By Optimized Maximum Resolution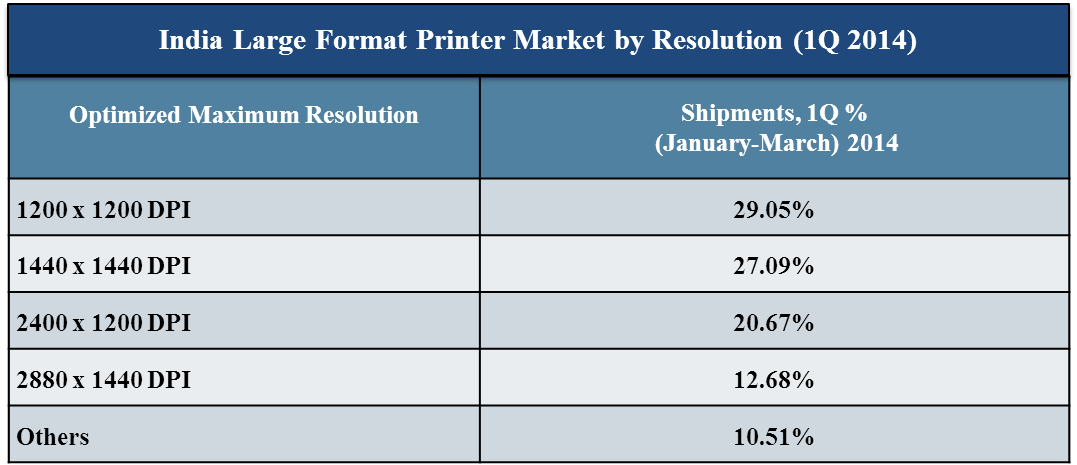 Source: 6Wresearch Quarterly India Large Format Printer Market, CY 1Q 2014.
Note: Others include 720 x 720 DPI and 360 x 720 DPI Printers.

Key Highlights
More than 36 vendors shipped Large Format Printers.
In Ink type segment, Dye and Pigment captured 46% Market share
Top three players constituted to 71% share of the entire India LFP market
Marketing banners and posters remain the most prominent large format applications due to their low cost and high impact on mass media. However, use of higher resolution LFPs and improved pigmented inks in the field of photography and fine art reproduction is gaining momentum.

The Indian LFP market is expected to demonstrate substantial growth as more and more multinational companies are entering the Indian market to set up their design centers. However, cost factor remains a major hurdle in the growth of the India LFP Market. New technologies are still to enter the India Printer market and players are facing stringent price competition.