---
With rising adaptation of E-Learning in the country, traditional classrooms are getting updated by whiteboards and projectors. Further, Projector market which was previously popular across large scale enterprises are now widely accepted across small and medium enterprises (SMEs) as well. India Projector market is rising steadily across various sectors such as Education, IT, Healthcare, Residential and others. However, Education sector is one of the key growth driver for these devices in India.

According to 6wresearch, India Projector (above 500 Lumens) market registered 0.13 million units in CY H1 2016, registering a considerable growth of around 38% compared to the same period previous year. Epson emerged as the new market leader in CY H1 2016. Further, in the second quarter of 2016, in terms of unit shipments, the company registered substantial growth of more than 60% as compared to CY 1Q 2016.

Benq continued its dominance and gained 2nd spot in CY H1 2016, capturing around 22% market share. Some of the major players in the India Projector market are Dell, Optoma, Sony, Hitachi, Acer and others.

Table: India Pico Projector Market, By Maximum Resolution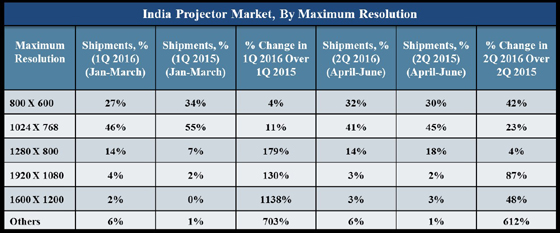 Source: 6Wresearch Quarterly India Projector Market, CY H1' 2016
Note: Others includes 800 x 480, 1280 x 720, 1200 x 800 etc.

In the technology segment, Projectors can be broadly classified into LCD (Liquid Crystal Display) and DLP (Digital Light Processing) categories. In CY H1 2016, DLP projectors registered around 60% market share. However, over the coming quarters, LED technology is expected to witness rise in adaptation due to several advantages such as greater lifespan and less heat generation as compared to the DLP and LCD category.


Key Highlights (CY H1 2016)
More than 20 vendors shipped devices.
Projectors having brightness of 3,000 Lumens or more dominated the market.
HD (High Definition) projectors emerged as the supreme leader as compared to the SD (Standard Definition) category.
Projectors with lamp life of 10,000 hours led the market.
According to Suman Gautam, Research Associate, 6wresearch, "In the Projector market, OEM's are targeting to provide more crisp display experience coupled with latest technology updations. Further, India Projector market is witnessing advancements such as short throw, wireless and 3D capabilities which are likely to register more adaptation over the coming quarters."

"In the technology upgradation, LBS (Laser beam steering) technology is anticipated to witness greater adaptation in India projector market. LBS projectors are popular for providing sharp image quality as compared to DLP and LCD", she further added.

India Projector Market Competitive Tracker provides in depth analysis offering insights on market share by companies, shipments, value and specification.