---
Increasing need for secured infrastructure, rising government focus on smart cities and growing IT spending by corporates have fuelled the growth of Video Surveillance Camera market in India. Additionally, growing consumer awareness and recent technological advancements in the market have further helped the cause.

According to 6Wresearch, India Video Surveillance Camera Market shipments value reached around $160 million in CY 2015. In terms of unit shipments, Hikvision led the overall market followed by CP Plus and Dahua. Other major players in the India Video Surveillance Camera Market are Samsung, iBall, Honeywell, Capture and Zicom.

Key Highlights (CY 2015)
CP Plus and Dahua together captured around 43% share of the market
More than 120 vendors shipped VSC units in India
Analog devices accounted for major share of the market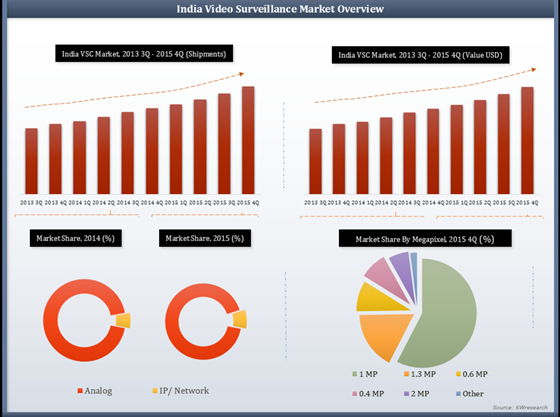 According to Anuj Mehrotra (Senior Research Analyst, 6Wresearch-India Electronics Division), "Increasing terrorist activities, need for remote monitoring and rising government spending on smart cities have led to the growth of India Video Surveillance Camera Market. Moreover, increasing application segments across Residential, Transportation and Healthcare sector, coupled with growing awareness and demand across tier 3 and tier 4 cities have further assisted in the progression of the Video Surveillance Camera Market in India."

In the recent quarters, India Video Surveillance Camera Market witnessed entry of Canon, a major player in the Digital Imaging industry. The company has stepped into the surveillance domain with the new range of IP cameras featuring intelligent video analytics. Canon is targeting to maximize their share in the market with the launch of their IP VSC portfolio featuring wide variety of indoor as well as outdoor applications including retail, city surveillance and critical infrastructure monitoring.

According to Pulkit Shrivastava (Research Analyst, 6Wresearch-India Electronics Division), "Presently, India Video Surveillance market is dominated by analog cameras with low resolution and ownership cost. Decreasing total cost of ownership (TCO) of IP surveillance cameras have spurred the demand in the Indian market. For instance, In CY 4Q 2015, IP VSCs have registered substantial growth over the previous quarter same year. Additionally, advanced features like PTZ (Pan, Tilt and Zoom), PoE (Power over Ethernet) and HD Resolution have increased the demand for IP VSCs, especially among the corporate sector."

India VSC market is poised to register considerable growth over the coming quarters as a result of growing urban population and increasing government spending across surveillance market. Moreover, initiatives taken by OEMs to offer cost effective, technologically advanced VSCs as well as increasing awareness among consumers would further fuel growth of the market.

India Video Surveillance Camera Market Tracker provides in depth analysis offering insights on market share by companies, shipments, value and specifications.