Chocolate is consumed across the globe and considered as one of the most profitable confectionary products. Middle East region is the key potential market for chocolate players. In Middle East region wide varieties of chocolates are available targeting to different age and income groups.

According to 6Wresearch, Middle East Chocolate market is projected to grow at a CAGR of 4.8% in revenue terms during 2017-23. Chocolate market is anticipated to register strong growth in the forecast period owing to high consumer spending on food products despite the slow economic growth. Chocolate market in the region is thriving due to change in eating preferences and availability of chocolate as a derived product for mousse, rolls, fudge, etc.

The health benefits offered by chocolate such as slow aging, prevention of certain diseases such as cardiac arrest surges the demand for chocolates with growing awareness amongst consumers. Further, growing demand for customized chocolate is surging the chocolate market in the region. Some of the key players in Middle East chocolate market include- Mars, Nestle, Ferrero, Mondelez and Hershey.

The report thoroughly covers the Middle East chocolate market by categories, distribution channels and packaging. The report provides an unbiased and detailed analysis of the on-going trends, opportunities high growth areas, market drivers which would help the stakeholders to device and align their market strategies according to the current and future market dynamics.
Key Highlights of the Report:
• Historical Data of Middle East Chocolate Market Revenues and Volume for the Period 2014-2016.
• Market Size & Forecast of Middle East Chocolate Market Revenues and Volume until 2023.
• Historical Data of Saudi Arabia, UAE, Qatar, Kuwait, Jordan, and Lebanon Chocolate Market Revenues
and Volume for the Period 2014-2016.
• Market Size & Forecast of Saudi Arabia, UAE, Qatar, Kuwait, Jordan, and Lebanon Chocolate Market
Revenues and Volume until 2023.
• Historical Data of Saudi Arabia, UAE, Qatar, Kuwait, Jordan, and Lebanon Chocolate Market Revenues
by Categories for the Period 2014-2016.
• Market Size & Forecast of Saudi Arabia, UAE, Qatar, Kuwait, Jordan, and Lebanon Chocolate Market
Revenues by Categories until 2023.
• Historical Data of Saudi Arabia, UAE, Qatar, Kuwait, Jordan, Lebanon and Chocolate Market Revenues
by Distribution Channel for the Period 2014-2016.
• Market Size & Forecast of Saudi Arabia, UAE, Qatar, Kuwait, Jordan, and Lebanon Chocolate Market
Revenues by Distribution Channel until 2023.
• Historical Data of Saudi Arabia Chocolate, UAE, Qatar, Kuwait, Jordan, and Lebanon Market Revenues
by Packaging for the Period 2014-2016.
• Market Size & Forecast of Saudi Arabia, UAE, Qatar, Kuwait, Jordan, and Lebanon Chocolate Market
Revenues by Packaging until 2023.
• Market Drivers and Restraints.
• Market Trends and Developments.
• Player Market Share and Competitive Landscape.
• Company Profiles.
• Key Strategic Pointers.

Markets Covered
The report provides detailed analysis of the following market segments:
• By Categories:
o Milk chocolate
o Dark Chocolate
o White chocolate
• By Distribution Channels
o Hypermarkets & Supermarkets
o Convenience Stores
o Specialist Retailers
o Others (e-commerce, pharmacy, dollar store)
• By Packaging
o Flexible
o Rigid
o Paper & Board
• By Countries
o Saudi Arabia
o UAE
o Qatar
o Kuwait
o Jordan
o Lebanon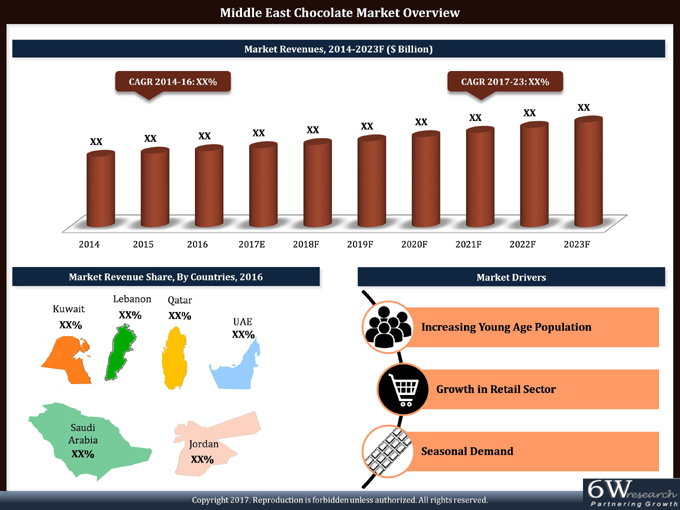 1. Executive Summary
2. Introduction
2.1. Report Description
2.2. Key Highlights of the Report
2.3. Market Scope & Segmentation
2.4. Methodology Adopted and Key Data Points
2.5. Assumptions
3. Global Chocolate Market Overview
3.1. Global Chocolate Market Revenues (2014-2023F)
4. Middle East Chocolate Market Overview
4.1. Middle East Chocolate Market Revenues (2014-2023F)
4.2. Middle East Chocolate Market Value Chain
4.3. Middle East Chocolate Market Industry Life Cycle
4.4. Middle East Chocolate Market Porter's Five Forces Model
5. Middle East Chocolate Market Dynamics
5.1. Impact Analysis
5.2. Market Drivers
5.3. Market Restraints
6. Middle East Chocolate Market Trends
7. Saudi Arabia Chocolate Market Overview
7.1. Saudi Arabia Chocolate Market Revenues (2014-2023F)
7.2. Saudi Arabia Chocolate Market Volume (2014-2023F)
7.3. Saudi Arabia Chocolate Market Revenue Share, By Categories (2016 & 2023F)
7.4. Saudi Arabia Chocolate Market Revenue Share, By Distribution Channel (2016 & 2023F)
7.5. Saudi Arabia Chocolate Market Revenue Share, By Packaging (2016 & 2023F)
8. Saudi Arabia Chocolate Market Overview, By Categories
8.1. Saudi Arabia Milk Chocolate Market Revenues (2016 & 2023F)
8.2. Saudi Arabia Dark Chocolate Market Revenues (2016 & 2023F)
8.3. Saudi Arabia White Chocolate Market Revenues (2016 & 2023F)
9. Saudi Arabia Chocolate Market Overview, By Distribution Channel
9.1. Saudi Arabia Chocolate Market Revenues, By Hypermarkets & Supermarkets (2016 & 2023F)
9.2. Saudi Arabia Chocolate Market Revenues, By Convenience Stores (2016 & 2023F)
9.3. Saudi Arabia Chocolate Market, By Specialist Retailers (2016 & 2023F)
9.4. Saudi Arabia Chocolate Market, By Other Distribution Channels (2016 & 2023F)
10. Saudi Arabia Chocolate Market Overview, By Packaging
10.1. Saudi Arabia Chocolate Market Revenues, By Flexible Packaging (2016 & 2023F)
10.2. Saudi Arabia Chocolate Market Revenues, By Rigid Packaging (2016 & 2023F)
10.3. Saudi Arabia Chocolate Market Revenues, By Paper & Board Packaging (2016 & 2023F)
11. Saudi Arabia Chocolate Market Opportunity Assessment
11.1. Saudi Arabia Chocolate Market Opportunity Assessment
12. UAE Chocolate Market Overview
12.1. UAE Chocolate Market Revenues (2014-2023F)
12.2. UAE Chocolate Market Volume (2014-2023F)
12.3. UAE Chocolate Market Revenue Share, By Categories (2016 & 2023F)
12.4. UAE Chocolate Market Revenue Share, By Distribution Channel (2016 & 2023F)
12.5. UAE Chocolate Market Revenue Share, By Packaging (2016 & 2023F)
13. UAE Chocolate Market Overview, By Categories
13.1. UAE Milk Chocolate Market Revenues (2016 & 2023F)
13.2. UAE Dark Chocolate Market Revenues (2016 & 2023F)
13.3. UAE White Chocolate Market Revenues (2016 & 2023F)
14. UAE Chocolate Market Overview, By Distribution Channel
14.1. UAE Chocolate Market Revenues, By Hypermarkets & Supermarkets (2016 & 2023F)
14.2. UAE Chocolate Market Revenues, By Convenience Stores (2016 & 2023F)
14.3. UAE Chocolate Market, By Specialist Retailers (2016 & 2023F)
14.4. UAE Chocolate Market, By Other Distribution Channels (2016 & 2023F)
15. UAE Chocolate Market Overview, By Packaging
15.1. UAE Chocolate Market Revenues, By Flexible Packaging (2016 & 2023F)
15.2. UAE Chocolate Market Revenues, By Rigid Packaging (2016 & 2023F)
15.3. UAE Chocolate Market Revenues, By Paper & Board Packaging (2016 & 2023F)
16. UAE Chocolate Market Opportunity Assessment
16.1. UAE Chocolate Market Opportunity Assessment
17. Qatar Chocolate Market Overview
17.1. Qatar Chocolate Market Revenues (2014-2023F)
17.2. Qatar Chocolate Market Volume (2014-2023F)
17.3. Qatar Chocolate Market Revenue Share, By Categories (2016 & 2023F)
17.4. Qatar Chocolate Market Revenue Share, By Distribution Channel (2016 & 2023F)
17.5. Qatar Chocolate Market Revenue Share, By Packaging (2016 & 2023F)
18. Qatar Chocolate Market Overview, By Categories
18.1. Qatar Milk Chocolate Market Revenues (2016 & 2023F)
18.2. Qatar Dark Chocolate Market Revenues (2016 & 2023F)
18.3. Qatar White Chocolate Market Revenues (2016 & 2023F)
19. Qatar Chocolate Market Overview, By Distribution Channel
19.1. Qatar Chocolate Market Revenues, By Hypermarkets & Supermarkets (2016 & 2023F)
19.2. Qatar Chocolate Market Revenues, By Convenience Stores (2016 & 2023F)
19.3. Qatar Chocolate Market, By Specialist Retailers (2016 & 2023F)
19.4. Qatar Chocolate Market, By Other Distribution Channels (2016 & 2023F)
20. Qatar Chocolate Market Overview, By Packaging
20.1. Qatar Chocolate Market Revenues, By Flexible Packaging (2016 & 2023F)
20.2. Qatar Chocolate Market Revenues, By Rigid Packaging (2016 & 2023F)
20.3. Qatar Chocolate Market Revenues, By Paper & Board Packaging (2016 & 2023F)
21. Qatar Chocolate Market Opportunity Assessment
21.1. Qatar Chocolate Market Opportunity Assessment
22. Jordan Chocolate Market Overview
22.1. Jordan Chocolate Market Revenues (2014-2023F)
22.2. Jordan Chocolate Market Volume (2014-2023F)
22.3. Jordan Chocolate Market Revenue Share, By Categories (2016 & 2023F)
22.4. Jordan Chocolate Market Revenue Share, By Distribution Channel (2016 & 2023F)
22.5. Jordan Chocolate Market Revenue Share, By Packaging (2016 & 2023F)
23. Jordan Chocolate Market Overview, By Categories
23.1. Jordan Milk Chocolate Market Revenues (2016 & 2023F)
23.2. Jordan Dark Chocolate Market Revenues (2016 & 2023F)
23.3. Jordan White Chocolate Market Revenues (2016 & 2023F)
24. Jordan Chocolate Market Overview, By Distribution Channel
24.1. Jordan Chocolate Market Revenues, By Hypermarkets & Supermarkets (2016 & 2023F)
24.2. Jordan Chocolate Market Revenues, By Convenience Stores (2016 & 2023F)
24.3. Jordan Chocolate Market, By Specialist Retailers (2016 & 2023F)
24.4. Jordan Chocolate Market, By Other Distribution Channels (2016 & 2023F)
25. Jordan Chocolate Market Overview, By Packaging
25.1. Jordan Chocolate Market Revenues, By Flexible Packaging (2016 & 2023F)
25.2. Jordan Chocolate Market Revenues, By Rigid Packaging (2016 & 2023F)
25.3. Jordan Chocolate Market Revenues, By Paper & Board Packaging (2016 & 2023F)
26. Jordan Chocolate Market Opportunity Assessment
26.1. Jordan Chocolate Market Opportunity Assessment
27. Lebanon Chocolate Market Overview
27.1. Lebanon Chocolate Market Revenues (2014-2023F)
27.2. Lebanon Chocolate Market Volume (2014-2023F)
27.3. Lebanon Chocolate Market Revenue Share, By Categories (2016 & 2023F)
27.4. Lebanon Chocolate Market Revenue Share, By Distribution Channel (2016 & 2023F)
27.5. Lebanon Chocolate Market Revenue Share, By Packaging (2016 & 2023F)
28. Lebanon Chocolate Market Overview, By Categories
28.1. Lebanon Milk Chocolate Market Revenues (2016 & 2023F)
28.2. Lebanon Dark Chocolate Market Revenues (2016 & 2023F)
28.3. Lebanon White Chocolate Market Revenues (2016 & 2023F)
29. Lebanon Chocolate Market Overview, By Distribution Channel
29.1. Lebanon Chocolate Market Revenues, By Hypermarkets & Supermarkets (2016 & 2023F)
29.2. Lebanon Chocolate Market Revenues, By Convenience Stores (2016 & 2023F)
29.3. Lebanon Chocolate Market, By Specialist Retailers (2016 & 2023F)
29.4. Lebanon Chocolate Market, By Other Distribution Channels (2016 & 2023F)
30. Lebanon Chocolate Market Overview, By Packaging
30.1. Lebanon Chocolate Market Revenues, By Flexible Packaging (2016 & 2023F)
30.2. Lebanon Chocolate Market Revenues, By Rigid Packaging (2016 & 2023F)
30.3. Lebanon Chocolate Market Revenues, By Paper & Board Packaging (2016 & 2023F)
31. Lebanon Chocolate Market Opportunity Assessment
31.1. Lebanon Chocolate Market Opportunity Assessment
32. Kuwait Chocolate Market Overview
32.1. Kuwait Chocolate Market Revenues (2014-2023F)
32.2. Kuwait Chocolate Market Volume (2014-2023F)
32.3. Kuwait Chocolate Market Revenue Share, By Categories (2016 & 2023F)
32.4. Kuwait Chocolate Market Revenue Share, By Distribution Channel (2016 & 2023F)
32.5. Kuwait Chocolate Market Revenue Share, By Packaging (2016 & 2023F)
33. Kuwait Chocolate Market Overview, By Categories
33.1. Kuwait Milk Chocolate Market Revenues (2016 & 2023F)
34.2. Kuwait Dark Chocolate Market Revenues (2016 & 2023F)
34.3. Kuwait White Chocolate Market Revenues (2016 & 2023F)
34. Kuwait Chocolate Market Overview, By Distribution Channel
34.1. Kuwait Chocolate Market Revenues, By Hypermarkets & Supermarkets (2016 & 2023F)
34.2. Kuwait Chocolate Market Revenues, By Convenience Stores (2016 & 2023F)
34.3. Kuwait Chocolate Market, By Specialist Retailers (2016 & 2023F)
34.4. Kuwait Chocolate Market, By Other Distribution Channels (2016 & 2023F)
35. Kuwait Chocolate Market Overview, By Packaging
35.1. Kuwait Chocolate Market Revenues, By Flexible Packaging (2016 & 2023F)
35.2. Kuwait Chocolate Market Revenues, By Rigid Packaging (2016 & 2023F)
35.3. Kuwait Chocolate Market Revenues, By Paper & Board Packaging (2016 & 2023F)
36. Kuwait Chocolate Market Opportunity Assessment
36.1. Kuwait Chocolate Market Opportunity Assessment
37. Middle East Chocolate Market Competitive Landscape
37.1. Middle East Chocolate Market Revenue Share, By Company
37.2. Middle East Competitive Benchmarking
38. Company Profiles
38.1. Mondelez International
38.2. Nestle S.A.
38.3. Ferrero SPA
38.4. The Hershey Company
38.5. Lindt & Sprüngli Group
38.6. Gandour
38.7. Mars, Incorporated
38.8. Patchi
38.9. Godiva Chocolatier
38.10. International Foodstuffs Co.
40. Strategic Recommendations
41. Disclaimer

List of Figures
1. Global Chocolates Market Revenues, 2014-2023F ($ Billion)
2. Middle East Chocolate Market Revenues, 2014-2023F ($ Billion)
3. Middle East Chocolate Market Value Chain
4. Middle East Chocolate Market Industry Life Cycle
5. Middle East Chocolate Market Porter's Five Forces Model
6. Middle East Population Statistics, By Country, 2012-2023 (Million)
7. Middle East Population Distribution, By Age Group (2017-2023)
8. International Cocoa Prices, 2017 ($/ton)
9. Saudi Arabia Chocolate Market Revenues, 2014-2023F ($ Million)
10. Saudi Arabia Chocolate Market Volume, 2014-2023F (Thousand Tonnes)
11. Saudi Arabia Chocolate Market Revenue Share, By Categories, 2016 & 2023F
12. Saudi Arabia Chocolate Market Revenue Share, By Distribution Channel, 2016 & 2023F
13. Saudi Arabia Chocolate Market Revenue Share, By Packaging, 2016 & 2023F
14. Saudi Arabia Milk Chocolate Market Revenues, 2014-2023F ($ Million)
15. Saudi Arabia Dark Chocolate Market Revenues, 2014-2023F ($ Million)
16. Saudi Arabia White Chocolate Market Revenues, 2014-2023F ($ Million)
17. Saudi Arabia Chocolate Market Revenues, By Hypermarkets & Supermarkets, 2014-2023F ($ Million)
18. Saudi Arabia Chocolate Market Revenues, By Convenience Stores, 2014-2023F($ Million)
19. Saudi Arabia Chocolate Market Revenues, By Specialist Retailers, 2014-2023F ($ Million)
20. Saudi Arabia Chocolate Market Revenues, By Other Distribution Channels, 2014-2023F ($ Million)
21. Saudi Arabia Chocolate Market Revenues, By Flexible Packaging, 2014-2023F ($ Million)
22. Saudi Arabia Chocolate Market Revenues, By Rigid Packaging, 2014-2023F ($ Million)
23. Saudi Arabia Chocolate Market Revenues, By Paper & Board Packaging, 2014-2023F ($ Million)
24. Saudi Arabia Chocolate Market Opportunity Assessment, By Categories
25. UAE Chocolate Market Revenues, 2014-2023F ($ Million)
26. UAE Chocolate Market Volume, 2014-2023F (Thousand Tonnes)
27. UAE Chocolate Market Revenue Share, By Categories, 2016 & 2023F
28. UAE Chocolate Market Revenue Share, By Distribution Channel, 2016 & 2023F
29. UAE Chocolate Market Revenue Share, By Packaging, 2016 & 2023F
30. UAE Milk Chocolate Market Revenues, 2014-2023F ($ Million)
31. UAE Dark Chocolate Market Revenues, 2014-2023F ($ Million)
32. UAE White Chocolate Market Revenues, 2014-2023F ($ Million)
33. UAE Chocolate Market Revenues, By Hypermarkets & Supermarkets, 2014-2023F ($ Million)
34. UAE Chocolate Market Revenues, By Convenience Stores, 2014-2023F($ Million)
35. UAE Chocolate Market Revenues, By Specialist Retailers, 2014-2023F ($ Million)
36. UAE Chocolate Market Revenues, By Other Distribution Channels, 2014-2023F ($ Million)
37. UAE Chocolate Market Revenues, By Flexible Packaging, 2014-2023F ($ Million)
38. UAE Chocolate Market Revenues, By Rigid Packaging, 2014-2023F ($ Million)
39. UAE Chocolate Market Revenues, By Paper & Board Packaging, 2014-2023F ($ Million)
40. UAE Chocolate Market Opportunity Assessment, By Categories
41. Qatar Chocolate Market Revenues, 2014-2023F ($ Million)
42. Qatar Chocolate Market Volume, 2014-2023F (Thousand Tonnes)
43. Qatar Chocolate Market Revenue Share, By Categories, 2016 & 2023F
44. Qatar Chocolate Market Revenue Share, By Distribution Channel, 2016 & 2023F
45. Qatar Chocolate Market Revenue Share, By Packaging, 2016 & 2023F
46. Qatar Milk Chocolate Market Revenues, 2014-2023F ($ Million)
47. Qatar Dark Chocolate Market Revenues, 2014-2023F ($ Million)
48. Qatar White Chocolate Market Revenues, 2014-2023F ($ Million)
49. Qatar Chocolate Market Revenues, By Hypermarkets & Supermarkets, 2014-2023F ($ Million)
50. Qatar Chocolate Market Revenues, By Convenience Stores, 2014-2023F($ Million)
51. Qatar Chocolate Market Revenues, By Specialist Retailers, 2014-2023F ($ Million)
52. Qatar Chocolate Market Revenues, By Other Distribution Channels, 2014-2023F ($ Million)
53. Qatar Chocolate Market Revenues, By Flexible Packaging, 2014-2023F ($ Million)
54. Qatar Chocolate Market Revenues, By Rigid Packaging, 2014-2023F ($ Million)
55. Qatar Chocolate Market Revenues, By Paper & Board Packaging, 2014-2023F ($ Million)
56. Qatar Chocolate Market Opportunity Assessment, By Categories
57. Jordan Chocolate Market Revenues, 2014-2023F ($ Million)
58. Jordan Chocolate Market Volume, 2014-2023F (Thousand Tonnes)
59. Jordan Chocolate Market Revenue Share, By Categories, 2016 & 2023F
60. Jordan Chocolate Market Revenue Share, By Distribution Channel, 2016 & 2023F
61. Jordan Chocolate Market Revenue Share, By Packaging, 2016 & 2023F
62. Jordan Milk Chocolate Market Revenues, 2014-2023F ($ Million)
63. Jordan Dark Chocolate Market Revenues, 2014-2023F ($ Million)
64. Jordan White Chocolate Market Revenues, 2014-2023F ($ Million)
65. Jordan Chocolate Market Revenues, By Hypermarkets & Supermarkets, 2014-2023F ($ Million)
66. Jordan Chocolate Market Revenues, By Convenience Stores, 2014-2023F($ Million)
67. Jordan Chocolate Market Revenues, By Specialist Retailers, 2014-2023F ($ Million)
68. Jordan Chocolate Market Revenues, By Other Distribution Channels, 2014-2023F ($ Million)
69. Jordan Chocolate Market Revenues, By Flexible Packaging, 2014-2023F ($ Million)
70. Jordan Chocolate Market Revenues, By Rigid Packaging, 2014-2023F ($ Million)
71. Jordan Chocolate Market Revenues, By Paper & Board Packaging, 2014-2023F ($ Million)
72. Jordan Chocolate Market Opportunity Assessment, By Categories
73. Lebanon Chocolate Market Revenues, 2014-2023F ($ Million)
74. Lebanon Chocolate Market Volume, 2014-2023F (Thousand Tonnes)
75. Lebanon Chocolate Market Revenue Share, By Categories, 2016 & 2023F
76. Lebanon Chocolate Market Revenue Share, By Distribution Channel, 2016 & 2023F
77. Lebanon Chocolate Market Revenue Share, By Packaging, 2016 & 2023F
78. Lebanon Milk Chocolate Market Revenues, 2014-2023F ($ Million)
79. Lebanon Dark Chocolate Market Revenues, 2014-2023F ($ Million)
80. Lebanon White Chocolate Market Revenues, 2014-2023F ($ Million)
81. Lebanon Chocolate Market Revenues, By Hypermarkets & Supermarkets, 2014-2023F ($ Million)
82. Lebanon Chocolate Market Revenues, By Convenience Stores, 2014-2023F($ Million)
83. Lebanon Chocolate Market Revenues, By Specialist Retailers, 2014-2023F ($ Million)
84. Lebanon Chocolate Market Revenues, By Other Distribution Channels, 2014-2023F ($ Million)
85. Lebanon Chocolate Market Revenues, By Flexible Packaging, 2014-2023F ($ Million)
86. Lebanon Chocolate Market Revenues, By Rigid Packaging, 2014-2023F ($ Million)
87. Lebanon Chocolate Market Revenues, By Paper & Board Packaging, 2014-2023F ($ Million)
88. Lebanon Chocolate Market Opportunity Assessment, By Categories
88. Lebanon Chocolate Market Opportunity Assessment, By Categories
89. Kuwait Chocolate Market Revenues, 2014-2023F ($ Million)
90. Kuwait Chocolate Market Volume, 2014-2023F (Thousand Tonnes)
91. Kuwait Chocolate Market Revenue Share, By Categories, 2016 & 2023F
92. Kuwait Chocolate Market Revenue Share, By Distribution Channel, 2016 & 2023F
93. Kuwait Chocolate Market Revenue Share, By Packaging, 2016 & 2023F
94. Kuwait Milk Chocolate Market Revenues, 2014-2023F ($ Million)
95. Kuwait Dark Chocolate Market Revenues, 2014-2023F ($ Million)
96. Kuwait White Chocolate Market Revenues, 2014-2023F ($ Million)
97. Kuwait Chocolate Market Revenues, By Hypermarkets & Supermarkets, 2014-2023F ($ Million)
98. Kuwait Chocolate Market Revenues, By Convenience Stores, 2014-2023F($ Million)
99. Kuwait Chocolate Market Revenues, By Specialist Retailers, 2014-2023F ($ Million)
100. Kuwait Chocolate Market Revenues, By Other Distribution Channels, 2014-2023F ($ Million)
101. Kuwait Chocolate Market Revenues, By Flexible Packaging, 2014-2023F ($ Million)
102. Kuwait Chocolate Market Revenues, By Rigid Packaging, 2014-2023F ($ Million)
103. Kuwait Chocolate Market Revenues, By Paper & Board Packaging, 2014-2023F ($ Million)
104. Kuwait Chocolate Market Opportunity Assessment, By Categories
105. Saudi Arabia Chocolate Market Revenue Share, By Company, 2016
106. UAE Chocolate Market Revenue Share, By Company, 2016
107. Qatar Chocolate Market Revenue Share, By Company, 2016
108. Kuwait Chocolate Market Revenue Share, By Company, 2016
109. Jordan Chocolate Market Revenue Share, By Company, 2016
110. Lebanon Chocolate Market Revenue Share, By Company, 2016
111. Dammam Retail Supply, 2013-2018F (GLA 000's sq.m.)
112. Jeddah Retail Supply, 2013-2018F (GLA 000's sq.m.)
113. Riyadh Retail Supply, 2013-2018F (GLA 000's sq.m.)
114. Dubai Retail Supply, 2012-2017F (GLA* (000') sq. m)
115. Abu Dhabi Retail Supply, 2012-2017F (GLA* (000') sq. m)

List of Tables
1. Saudi Arabia Upcoming Malls, 2018-2020
2. Upcoming Malls in UAE
3. Kuwait Upcoming Retail Sector Projects
4. Qatar Upcoming Retail Sector Projects
5. Lebanon Upcoming Retail Sector Projects
6. Fees to be Paid by Saudi Arabian Company for Non-Saudi Employee (SAR)
7. Saudi Arabia Dependent Fees for Non-Saudi Employees (SAR)