---
Total shipments for India Pen Drive (also known as USB Flash Drive) market in India amounted to 4.3 million units in CY Q4 2013. SanDisk emerged as the market leader followed by Hewlett Packard and Transcend. Other Major Players include Toshiba Corporation, Kingston Technology Corporation, Sony Corporation, Strontium Technology Pvt. Ltd. and Verbatim Corporation.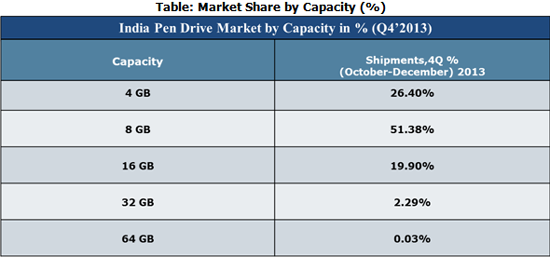 Source: 6Wresearch Quarterly India Pen Drive Market, CY Q4 2013

In CY Q4 2013, USB Drives with 8 GB capacity bagged around 51% of the total india Pen Drive market share followed by 4 GB. Further, Pen Drives with 4 MBPS transfer speed amounted to around 46% of the total market share followed by 18 MBPS. Additionally, USB 3.0 Pen drives witnessed an increase in demand due to its fast data transfer rate of around 80 MBPS.

Key Highlights (CY Q4 2013)
More than 30 vendors shipped Pen Drives
Top three players captured around 77% of the total market share.
USB 2.0 Pen Drives registered more than 95% of the total market share.
Pen Drive is one of the largest segment in the Indian consumer electronics Industry. The Indian Pen Drive market witnessed an increase in demand for higher capacity Pen Drives as there has been a consistent decline in the prices of Pen Drives over the past few quarters.

The Indian Pen Drive market is expected to demonstrate substantial growth over the coming years as demand for storing, transferring, and organizing digital content such as Word, Excel and PPTs is growing amongst the corporate and household segment.