---
In the last five years, India's Routers and Ethernet Switches market has registered significant growth. Routers can be categorized as- wired and wireless, wherein wireless dominates both in revenue and volume terms. India being one of the potential markets for routers is increasingly witnessing growth in demand for wireless routers. Whereas Ethernet switches can be segmented as managed and un-managed switches. Presently, Managed switch segment accounted for dominant market revenue share; increasing amount of data traffic over the network coupled with increasing bandwidth requirements in the enterprise segment are driving the market for managed switches.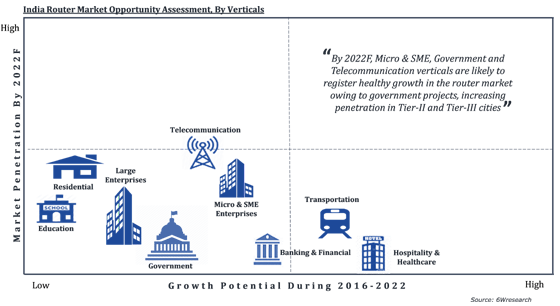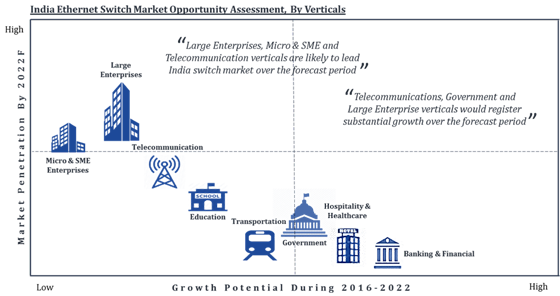 According to 6Wresearch, India Routers and Switches market revenues are estimated to reach over $579 million in 2016. India's routers and switches market is buoyed by several factors predominantly adoption of 3rd platform solutions such as cloud, mobility, big data & social business, internet enabled devices, Bring Your Own Device (BYOD), and growing number of SMEs in the country. Apart from this, India's rising internet penetration along with growing IT spending spurred the market for routers and switches in the country. India's internet penetration is poised to reach 40% - 45%, and IT spending to touch $116 billion by 2022.

According to Prijo Samuel, Senior Research Analyst – IT & Electronics, Research and Consulting, 6Wresearch, "Telecommunication (Internet Service Providers & Local Cable Operators) vertical is set to acquire largest revenue share by 2022 followed by residential and enterprise vertical markets. India to foresee several projects pertaining to rural digitization in the next two to three years; about 100 WiFi hotspots have been planned by Bharat Sanchar Nigam Ltd. (BSNL)."

"D-Link, TP-Link, NETGEAR, Binatone, and Tenda, are the major contributors in residential router market, whereas players such as D-Link, Cisco, and HP enjoyed healthy market share in enterprise router market." Samuel further added

According to Rishi Malhotra, Research Associate – IT & Electronics, Research and Consulting, 6Wresearch, "Managed switch captured the majority of the revenue share of the India's Ethernet switch owing to high prices and increased investments from enterprise and Telecommunication verticals. By 2022, Telecommunication and Enterprise verticals are likely to acquire the largest revenue share on the back of new projects in the upcoming digitization phase and smart cities, Make in India and increasing adoption of third platform solutions."

Additionally, "Cisco and HP notch the top spot in the enterprise vertical. Cisco and Bharti Airtel entered into a strategic business alliance to drive growth for enterprises in India. Players like D-Link and TP-Link were the key contributors in MSME segment," Rishi further added.

The major companies in India router and switch market include- D-Link, TP-Link, NETGEAR, Cisco, Binatone, IBall, Tenda, ZyXEL, and HP.

"India Router and Switch Market (2016-2022)" provides in-depth analysis with 172 figures and 48 tables covered in more than 250 pages. The report estimates and forecast overall India Router and Switch market by revenue, volume, Router and Switch type, specifications, verticals, and regions. The report also gives key insights on competitive landscape, market share by companies, company profiles, market trends, market drivers and restraints.